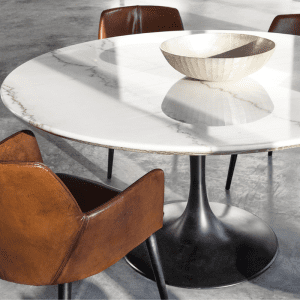 Flamant Aboah White Marble Round Dining Table
€3,295.00
Modern minimalism with a retro twist: Aboah is so much more than a dinner table. With just one leg, elegantly flowing out into a sturdy round base, this welcoming design offers ultimate freedom of movement to all your guests. Its black base and luxurious oak and marble surface go well together with metal, leather and even wooden chairs. Never a dull dinner!
This kind of stone is just polished and waxed, there is no special treatment to prevent marks. In case of stains: Apply clear water to soak the contaminated area, after stain is dissolved by water it can be cleaned with laundry detergent. After clean up, dry more than 10 hours and wax it properly.
Technical Information
Marble, Oak, Metal.
Dimensions:
Weight: 140 (kg)